Dear and radiant heroes, the more unknown your names, the wetter with tears the eye that gazes upon you with enthusiasm!
André Léo (1824-1900), writer, socialist, feminist, exile in Switzerland
"
"
The members of the Municipal Council are known, at least to those who are interested. Both their names and their biographies. The same goes for the journalists, newspaper editors and cartoonists.
But who were the 200.000 at the proclamation of the Commune on March, 28th, in the Town Hall Square in Paris? "All these people who have only one soul and one cry: Long live the Commune!" as Catulle Mendès, an opponent of the Commune, wrote. Who were these people who filled the Commune with life and not infrequently paid with the same? Who the 300.000 armed national guardsmen? The thousands in the meetings of the Red Clubs and the resistance committees in the districts? The children and youngsters who defended their own barricades against the counter-revolutionary army? The 20.000 who were massacred by the rulers?
Of the 36.309 accused, names, dates of birth and place of residence are known from police files. Biographies and photographs of some of them are also available. We want to snatch a few from oblivion here.
Enfants perdus – the lost children of the Commune
…we see the last group of defenders of the barricade fleeing, four or five fourteen-year-old boys…
Edmond de Goncourt, diary of 23rd May 1871.
"
"
2.000 to 3.000 boys, nothing is known of girls, took part in the commune's fighting. Other estimates even put the figure at tens of thousands, who participated in one way or another. Already in the siege winter of 1870/71, children and youngsters hunted dogs and cats, which they sold to butchers, others smuggled tobacco.
Three battalions of the National Guard consisted of 80% adolescents. In many other battalions, too, teenagers aged 14 to 17 were fighting, some even younger. The reasons were economic hardship, family ties, but also politisation before and during the commune.They had participated in the defence of about fifteen barricades, one was defended only by youths. 651 children and youths were arrested. How many were killed is unknown, but the government knew no mercy even for children.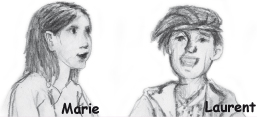 Marie: I'd like to be a heroine too and fight at the barricades but Mum says I'm too young for that. Have you heard of Léon Drouet? He's only 11 years old too and he enlisted in the 6th Company.
Laurent: Yes, and they also told him he was much too young.
Marie: But as a consolation he got a National Guard uniform. And what do I do? I just run around all day.
Laurent: Marie, listen to me carefully: you deliver messages from one street barricade to another. Every task counts equally for the community. No one is better or worse here. Information is just as important as guns.