The people don't need to thank their representatives for doing their duty.
Newspaper Le Prolétaire – Organ of Social Demands, No. 3, 19th May 1871.
"
"
Most of the enactments (decrees) of the Commune were aimed at specific improvements for the working population. Some went more in-depth towards socialist development.
A driving force of social policy was the Commission of Labour, Industry and Trade. Its delegate Léo Fränkel aimed to "radically change the social order", as he wrote to Karl Marx. A commission made up of workers took the initiative to "give practical form to the wishes of the workers", according to the journalist Arnould.
Factories abandoned by capitalists were to be disowned by decree as of April 16th. Workers' cooperatives were expected to assume ownership – former owners were compensated – and were instructed to "draw up a plan for the formation of these cooperative workers' societies". About a dozen factories were confiscated.
Other decrees
Rent remission, confiscation and distribution of vacant buildings, abolition of the army, arming the people, separation of church and state, release of political prisoners, prohibition of deduction of wages as a punishment, employment agency, fixing of wages on communal contracts, Provisioning of both legitimate and illegitimate widows and orphans of fallen communards, restitution of pawned property, long-standing instalments on debts, Fixing the price of bread.
Le Prolétaire – Club, Newspaper, Revolution
Le Prolétaire – Organ of Social Demands was the newspaper of a Red Club of the same name that occupied the church of St. Ambroise. Both were founded by workers with revolutionary aspirations and were extremely successful. After the ban on night employment in bakeries, bakery workers thanked the council of the commune. This was criticised by Le Prolétaire which said: "The people don't need to thank their representatives for doing their duty; they would be criminals if they didn't; it is therefore a bad habit to thank them for taking measures, they were otherwise blameable for if they had not taken it.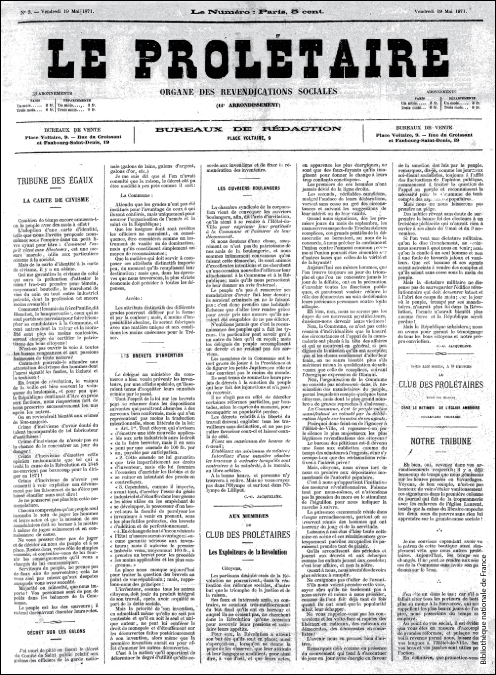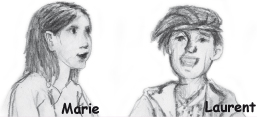 Marie: I heard they want to close down the army? What does that mean? Is that a good thing? Will there be peace forever and never ever war again?
Laurent: Difficult question! I don't know. Sometimes I even ask myself, was I really better off before the war? My parents were still alive and I miss them very much, but we hardly had anything to eat either.
Marie: But the food is distributed more fairly now. That's why mum meets so often with the other neighbours. They organise that.