Every step of real movement is more important than a dozen programmes.
Karl Marx (1818-1883), philosopher and economist, letter to Wilhelm Bracke, May 5th, 1875
"
"
With a few exceptions, the names of even the most active communards are no longer present today. But even with only a cursory examination of the commune, there are names that crop up again and again. To name just a few: Delescluze, Varlin, Léo, Michel, Frankel, Ranvier, Dmitrieff, Vallès, Arnould. Some had been politically active for decades and had already been through persecution, imprisonment and exile. They saw themselves in the tradition of the radical Jacobins, as social republicans, Blanquists, Proudhonists and Marxists.
No one was prepared for the commune, but all did their best for it. Many paid for the 72 days of hope for an end to the exploitation of man by man with death, imprisonment, deportation or exile. They drew different lessons from the commune and its brutal suppression by the ruling bourgeoisie. The communards turned to communism, anarchism or the organisation of socialist parties. Almost all of them continued to fight for a revolutionary change in capitalist relations.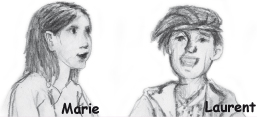 Marie: Have you heard of the Dmitrieff?
Laurent: The one from the Union des Femmes?
Marie: She's supposed to look beautiful. And very mysterious.
Laurent: Hmm, I heard she comes from a very rich Russian family. What is she doing here? Why is she fighting with us? On the other hand, she really seems to be behind our ideas. Founding associations, organising work, fighting at the women's barricade in Montmartre.
Marie: Can't you wish for a fairer world just because you have money? She can't choose her family either.